These toppers from the SinterMeertenCollege in Heerlen,
going from 1-2-2018 to 17-2-18 to complete their social internship in our school in Kitgum, Uganda.
My name is Anne Claessens and I study at Sintermeertencollege in VWO 5. I do bilingual education. Each pupil goes on an international internship in the fifth grade to an English-speaking company or institution.
I do not yet know what I'm going to study after school, but I am certain that it is going to be a social aimed study. I want to help people. Not the medical side, but more the psychological and / or educational side. That is also the reason why I have chosen a social profile at school.
On February 1, 2018 I am going to Uganda for 18 days for an internship at the Laker International school in Kitgum.
Somehow people always pass by my who I can help in one way or another. This can be done by doing something very simple, such as listening to someone's story, an arm over the shoulder or just being there for them. I think this is my biggest reason why I want to go to the UKEF foundation.
I love helping people on an emotional level and therefore know how important it is to give and receive positive attention. For us, in Western countries, there is a lot of attention for education and training. It is important to offer young people a good basis.
By helping to improve the quality of education in Uganda I will help many children. It is not always normal for these children to learn the basic principles. Attention and development of social skills are things they might receive from home or not at all, because they often live in very large families so they do not get much attention.
At the UKEF school I will give various lessons, workshops and presentations to the students and I am going to help the teachers in the daily activities.
I love helping children and expanding their world by giving lessons, presentations and workshops.
I think it's great to work on this project. Sharing knowledge so that children, teachers and staff at the Laker International School learn from us and we learn from them.
I am calm and serene. In times of stress I maintain an overview and I keep an eye on everything. I am strong and know how to approach things. If I like something, I am very motivated. I will definitely go for it and do my best. This trip is of course a wonderful opportunity to see another part of the world. Another culture, a different society.
I am really looking forward to this experience!
Anne Claessens
I am Gwen Schielen from Klimmen.
I am 17 years old and, just like Anne, Floor and Joline, I work at 5 VWO of the Sintermeertencollege. As Anne has already explained in advance, we must take an international internship for our bilingual study.
This can be done at any international, Dutch or foreign company. However, when we got this opportunity, we knew immediately that we would grab it with both hands and make something special out of it.
Every year a Martinus day is organized at our school in honor of the patron saint of high school; Saint Martin.
On this day (11 November) several creative activities will be undertaken to raise as much money as possible for the good causes that our school supports. For example, a sponsored run is organized annually, after which you can relax in the auditorium with stalls.
Because mrs. Nestar Okella Lakot always faithfully represents her foundation at our school on this day with her delicious cookies and beautiful jewelry, we came into contact with UKEF.
We were explained in smells and colors what the foundation stood for and I became more and more enthusiastic.
It means so much to support a fellow man. What makes it extra special is that especially poor, Ugandan children can benefit from this. After all, children are the future of the country.
Instead of doing work to support their families, the children now also have the chance to be children. Because the foundation makes it possible for them to go to school, the future of the country is always more beautiful and the chances of the small Ugandans are always greater. That is why I feel very honored that we have been given the opportunity to follow our international internship at this beautiful foundation.
I can not wait to support UKEF in their impressive project.
Gwen Schielen
My name is Joline van Wegen, I am 17 years old and currently living in Nuth. This year I am doing the fifth year of VWO bilingual education. As already mentioned by Anne and Gwen, I also came into contact with UKEF through Sintermeertencollege and the information Nestar provided us with.
Last year I made a impressive trip to Guatemala, after this experience it became clear to me that I wanted to experience more adventures like this one. The most special thing about traveling is meeting the children, in spite of the clear difference in culture you can create a special and profound connection with them. I noticed that, despite the language barrier, I could mean something to them and they impressed me on their turn. This feeling was so enriching that I just want to relive it over and over again. For me there is no greater feeling, than the happiness when I have helped someone else. That is why I am excited to take the opportunity to volunteer at UKEF. I am beyond curious to see how this school works and how I can help this inspiring foundation.
This trip to Uganda is for me also about discovering, so I can explore the many more places in this world. I want to see this culture and country with my own eyes, in order to form my own opinion instead of taking over the opinion of others. By seeing Uganda with my own eyes, my world will grow a little. This enables me to see how privileged I am and it will help me to get my own life into perspective.
At the moment it is my goal to become a doctor, someone who is there where she is needed. Whenever I see commercials of Doctors Without Borders who are helping refugees, I wish to be there and help them. These kind of commercials give me goose bumps , I feel drawn to them. I want to be someone who makes it her life goal to cure people. I have the feeling that volunteering at UKEF will help me to gain more experience and that it will be very educative. I enjoy playing with children and want to help them with their education and development. I don't give up easily and I am an extremely motivated person with lots of empathy and I know for sure that I am a good fit for the foundation.
Joline van Wegen
My name is Floor Borghans and I am 16 years old. I live in Colmont and I study at Sintermeerten. I am going on an international internship this year, because I do billingual education. I am leaving for Uganda in February together with Anne, Gwen and Joline.
A year ago, miss Romano (who was my English teacher at that time) told us for the first time about the international internship. She also said that we could consider going to Uganda. Nestar was going to give a presentation about UKEF at Sintermeerten. I was instantly hooked. After a few mails, it was certain: we are going on international internship to Uganda.
It's a challenge for me to see how people live in another country. To me, the different lifestyles en cultures are very interesting. I think it's amazing that I get the chance to experience this. The most wonderful thing is of course living and eating with the locals and helping the teachers of the primary school.
I am looking forward to leaving for Uganda! Nestar and Ed, thank you for this amazing chance.
Floor Borghans
Anne, Floor, Gwen and Joline do their international internship in Uganda, in Africa. From the cold Netherlands they arrived in Kampala, the capital of this Central African country, through the warm Dubai. From Kitgum they will keep us regularly informed about their adventures and experiences.
1 and 2 February 2018
On Thursday 1 February we left for Uganda on our international internship. We flew from Düsseldorf but because we had some delay, we had to run in Dubai. After a second long flight we arrived (a bit tired) in Uganda. Here we were picked up by Lennie who then took us to Kampala. Lennie travels with us to the north of Uganda (Kitgum) where the school is located where we will do an internship. In Kampala our US dollars have been exchanged for Ugandan schilling. To recover from our journey we went to a cafe where we had a delicious smoothie. After this break, we drove by car to a Mrs named Christine, where we spend the night tonight. Christine had cooked deliciously for us in her big house.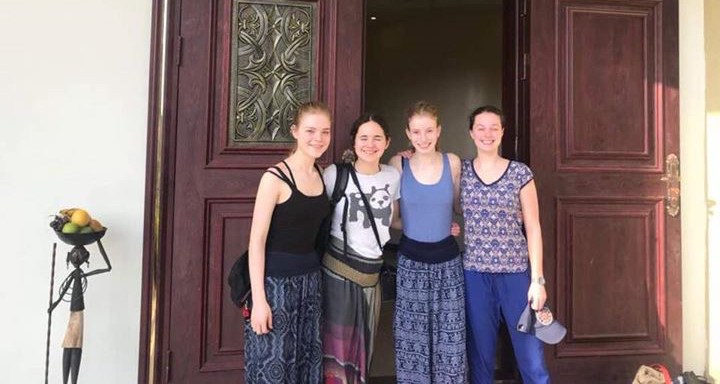 Tomorrow morning we will drive to Kitgum by car. It is a journey of almost eight hours, so we have to get up early!
February 3
This morning we woke up in the gigantic house. A delicious breakfast was prepared for us. After the breakfast we had, our suitcases were tied to the roof of the car. After this we started our eight-hour journey to the north, to Kitgum. On the way we stopped a few times to take pictures and to eat. At one point we encountered a number of baboons. When we stopped to take a photo, one of them jumped on the hood of the car. The monkey had seen a biscuit in the car and wanted to have it. After we had thrown out the biscuit we drove on.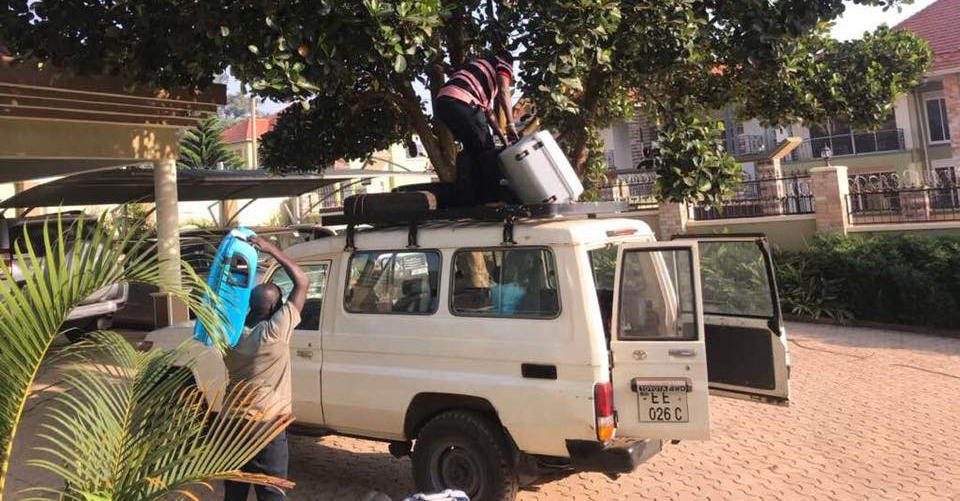 Around six o'clock (local time) we finally arrived in Kitgum. Here we were warmly welcomed by the population of the village. Very nice food was cooked for us which we enjoyed. We have a chat and then we are ready to sleep. Tomorrow we go to church in the local village. We are all very excited about this!
4 February 2018
This morning we got up early to go to church in the village. When we arrived at the church we were pleasantly welcomed by everyone. During the mass we had to introduce ourselves to all people in the church. There was a lot of singing in the church and that sounded really crazy. After the mass we walked a bit through the village, but we went home quickly because it was 36 degrees. In the afternoon we were provided with a delicious lunch again. After lunch we walked back to the village to do some shopping. First we sat down on a terrace and then we lugged with our purchased water bottles. At home we played a game and showered quickly before the sun went down. The sun goes down around seven o'clock.
Tomorrow the school will start again. It is the first school day after their summer vacation. School days last from 7 a.m. to 5 p.m. So it will be a long day!
February 5, 2018 This morning it was up early, because at half past eight we had to be at the school. Apparently time is not taken so closely here. At eight o'clock the children had to stand in rows and then they started to sing with all sorts of songs. Then the children marched to their classes. Gwen was in class p2 (6-7 years), Joline was in p3 (8-9 years), Floor was in p4 (10-11) years and I was in p5 (11-12) years. There were several teachers who exchanged classes after each class to give their own course. Social Studies, Intergrated Science, Literacy, Maths and English were taught. The children receive breakfast and lunch at school. Breakfast consists of a kind of porridge and lunch consists of beans and posho (a kind of adhered rice). All children were so incredibly nice. The school lasts until five o'clock, but around three o'clock we have left. Gwen, Joline, Floor, Lennie and Vera went to town to buy some fruit and I went to the house to sleep. In the evening Vera has played guitar and sung songs. The dinner that was cooked for us was fantastic again.
We are going to sleep well tomorrow and then we have to get up early tomorrow to go to school!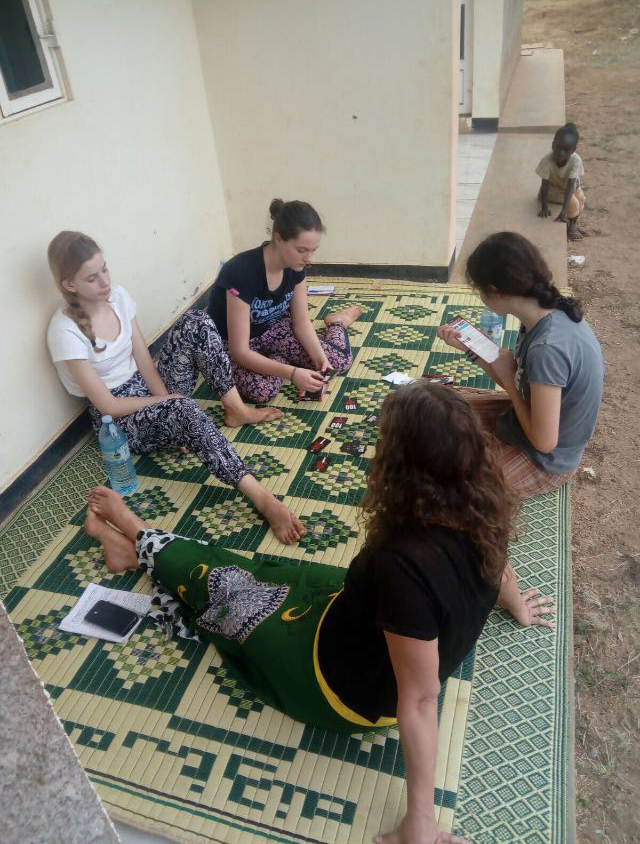 February 6, 2018
This morning we had to be at school at half past eight. We arrived after the lessons had already started. Today more children were present than yesterday. Everyone was already used to us a little bit now. Today we went to the same classes again. In the break we all went dancing. After the breaks, the lessons continued as usual. We left again around three o'clock. We all went to the village to have a drink. When we arrived at the cottage again we cleaned up the suitcases. After this we decided to work out at a gym. It was really super intensive and incredibly funny. We were sweating a lot because it was still very hot outside. But it was so nice !!!! After the sport we walked back and at home we had a nice dinner.
Tomorrow we are going to change classes, so we are curious what that will be. We also plan to do sports again tomorrow!
February 7, day 7
This morning we got up extra early because we decided to do yoga in the morning. Floor did all yoga poses and Joline, Gwen, Vera and I did everything. Then we had breakfast together. Vera and I went to school a little earlier, because I wanted to see the children singing. Before the children go to classes, they have to stand outside in rows and then they sing together with the teachers.
Vera and I arrived on time and after a while Gwen, Joline, Floor and Lennie also came. Today we had agreed to switch classes. In this way we could receive lessons from other teachers. All teachers here give very interactive lessons. There is a spelling Bee in English and at Integrated Science the children are taken outside to learn more about the plants. What strikes me here is that the boys have a better handwriting than the girls and the boys are also done with homework rather than the girls. The way of teaching is very different here than we are used to. They change teachers here, because every almost every teacher gives a different course. The teachers also just leave the class after they have given up homework. In the beginning this was a bit weird for us, because we were in the back of the class to observe everything and then we are left alone for 1 or almost 2 hours. To fill the time we did games like hangman and butter, cheese and eggs with the children. But if the teachers are there, the teacher is listened to so well. The teachers also give a very nice lesson. Sometimes a tick is handed out, fortunately that is forgotten again. Floor, Joline and Gwen have returned home around three o'clock. Vera and I stayed until five o'clock. All teachers had a meeting at half past four so all children of all classes were alone. Vera and I found this strange, but they do not know any differently at school. To kill the time, I did some games with the P5 class. When we left school, we went back and decided to work out again tonight. The sports lesson was very intensive and very nice again. At home we have eaten well and we went to bed a bit on time.
Tomorrow we will give different lessons at school and we all have a lot of sense.
Anne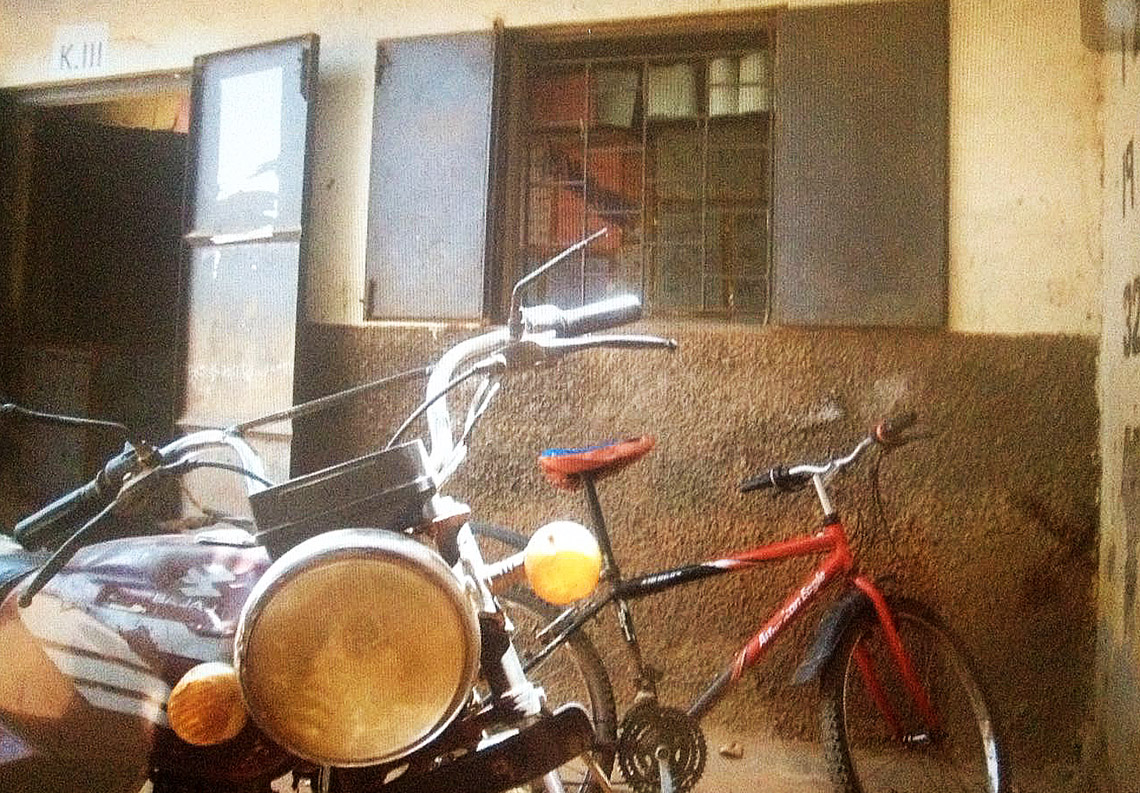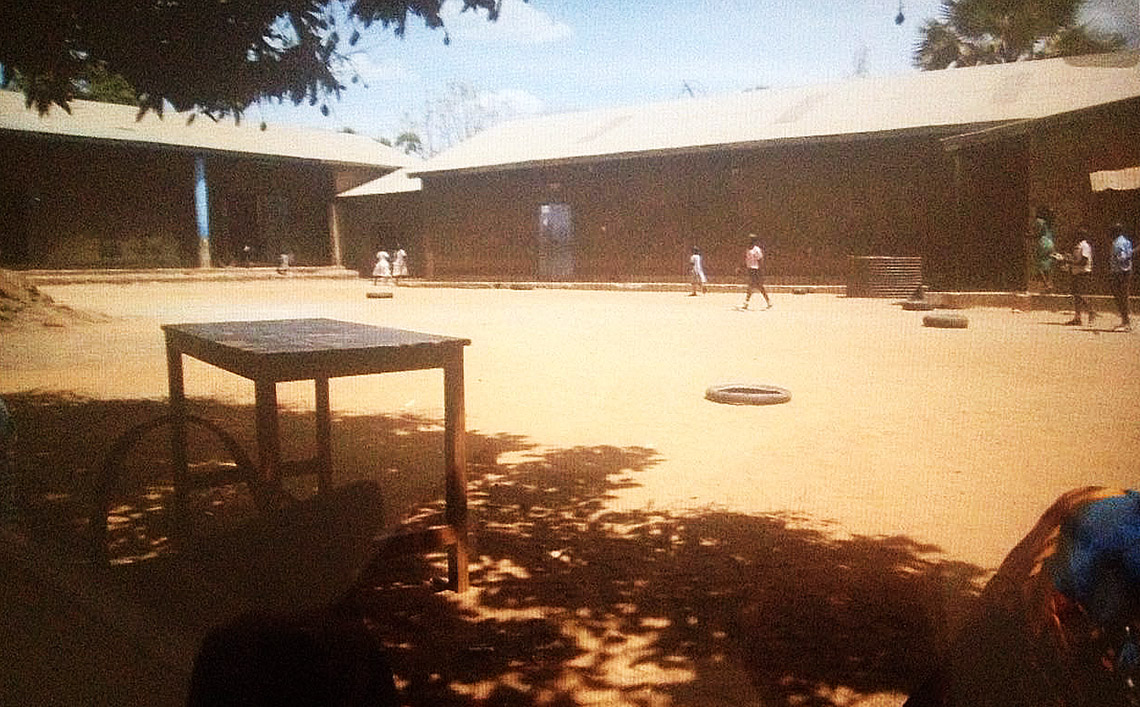 February 8, day 8
This morning, as usual, we got up at half past six to get ready for the long day. In the morning we also eat sandwiches for breakfast. When we arrived at school around 7:30, all P classes had already started with the lessons. Today we had all prepared lessons to give to the classes. Gwen and Joline have taught P2 and P3. These are children from 7 to 9 years old. Floor and I have taught P4 and P5. These children are 9 to 11/12 years old. The classes P3 and P5 found our lesson about Dutch culture very interesting. P4 unfortunately did not have much interest in our lesson and P2 was staffed all day with a teacher, so there was no time for Joline and Gwen to give the presentation. Joline handed out treacle waffles to the teachers during the big break. All teachers were enjoying the stroopwafels !!! We went home around half past four. When we arrived home, we took it easy for the whole afternoon. Everyone was tired and we all had to keep track of our reports. At seven o'clock we went to town to go out for dinner! I ordered a pizza margeritha and the pizza tasted very good! Only at a quarter past ten we were back home, so everyone immediately went to bed.
Tomorrow gymnastics will be given at school and tomorrow we will also give a lesson about animals.
This morning we got up at half past six, so that we would arrive at school on time. Vera and I left at a quarter past seven and the rest came later. At school we have prepared a gym class together for classes P4 and P5. First we all went to our own class and after the small break it was gym time! All children first had to stand in a circle. To begin with, the teachers (Angelo, Benson, Charles and Dominique the headmaster) gave a few exercises that everyone had to imitate. There is a lot of singing and dancing here, so that came back in the gym class. After the exercises, the four of us had to stand in the middle of the circle and then we did the Macarena. For the children it was no trouble to get the hang of it quickly, but some teachers did not understand it! After dancing we have made a relay race. After two teams were created, the race could start. All children liked it so much. Even the teachers have run like their lives depended on it!
After the cooling down everyone went back to their classes and then the lessons could start again. Soon after, the big break began. All children get beans and posho (a kind of sticky rice) and we got spaghetti with beans / posho / cabbage. At half past four drums were prepared for a traditional dance. The P5 class, together with a few younger children, performed a traditional dance. Two teachers played the drums. I found this so beautiful to see. All those children make certain movements that we simply can not do. It looked so impressive !! Around a quarter to five we went home again.
At home we have read, written and what to try to sleep. In the evening we had a nice dinner and we went to bed on time, because everyone was very tired.
Tomorrow there is a parents meeting at school where we need to be present. Also we leave tomorrow afternoon to Kidepo (a nature park) where we stay until Sunday night. On Monday we will take a walk to a tribe. We will not have WiFi in the next three days, so all reports about our trip will be on the website a bit later.
February 10
This morning we could have a good lie-in for the first time. The children also go to school on Saturday, but we only needed to be half past two in connection with a parents meeting of two to four. Despite the fact that we could sleep late most of us were already awake at half past seven. I immediately got up and packed my bag for the next two and a half days before our trip to Kidepo the nature park. After we had breakfast, I went to school, because I just really like it there! The rest stayed home all morning to read and pack.
Vera came to school around 10:30 and at half past one the school was out. You would expect everyone to go home immediately, but that was not the case. The older children had to scrub and polish the premises with a few younger children. Meanwhile, Vera and I talked to the teachers. At two o'clock the rest came running and then we went straight to the parents meeting. Being here on time is a broad concept here in Africa. So the meeting started at two o'clock and then there were three parents in the room. At twenty past four the last parents came in. The meeting was about the future of the school and why Vera and we are here. After the meeting we drove to our sleeping place near Kidepo. We were completely covered in orange when we got there! So we first showered quickly and then had a nice meal. Then we went to bed, because tomorrow we have to get up at five o'clock for the morning drive in the Nature Park.
February 11
This morning we got up at five o'clock so we could sit in the car at half past six. Unfortunately, the breakfast was prepared a bit later, so we left a bit later than planned. A little after six we arrived at the house where we had to pay. Then we could immediately leave to see the animals. After ten minutes of driving we already met two lions along the road. At one point they walked past our car. A lion was lying in the sun, while the other had an antelope in his sights. After a while the lion walked slowly towards the antelope and began to chase him. The lion was only a little too slow, so the antelope was gone. This was the perfect start to our safari trip. Then we encountered hundreds of buffalo. Soon after the buffalo we all came across piggies. Many animals in the park had little ones, so that was very cute to see. Around nine o'clock we arrived at the camp where all rangers live. We had reserved a ranger so that he could show us all the animals. Unfortunately it turned out that our ranger had already joined other Dutch, because we were a bit later by the lions. We went on the road without a ranger. Immediately after our departure we drove past a herd of elephants. They were a father, mother and four baby elephants. There was also a giraffe in the distance. When we had taken a pause between the buffaloes for a while, we came across a tree where we were all climbed together. Then we met a few piggies, gazelles and antilopes. Suddenly we saw a pretty rare animal that lives in two parks all over Uganda. We met a moose, but it did not look like the moose as we know it. We later found out that it was quite special that we saw this. Shortly after we encountered a number of zebras. These are such fun animals to see! Later we ran into herds of elephants and ridiculously many bison and boar.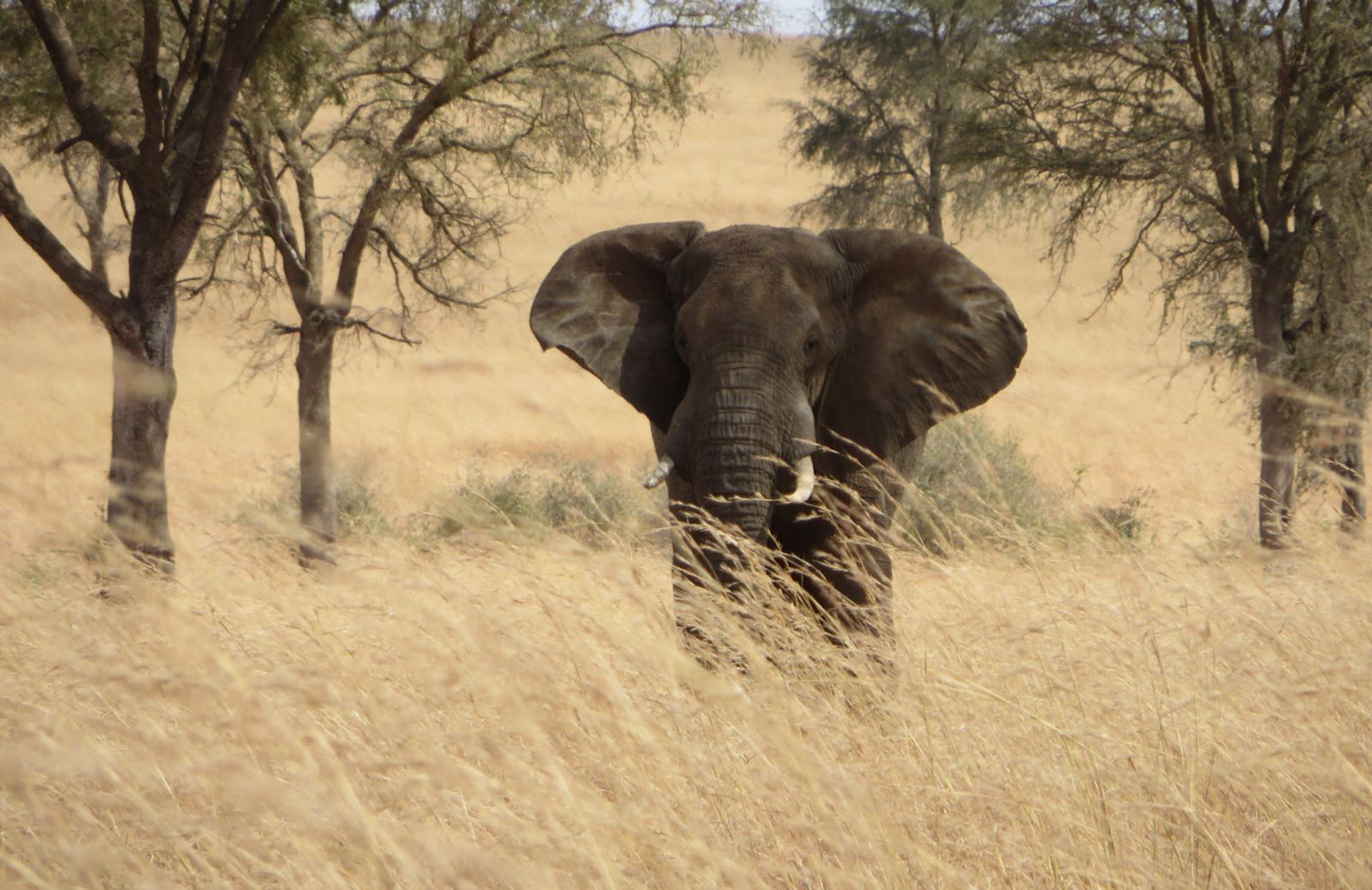 We have also seen a lot of birds. We have seen bright yellow, green and blue birds. We also encountered vultures and all kinds of birds at the water. Around half past one we went back to the camp of the rangers. Here we ate and try to sleep. At four o'clock we went further, because the temperature had dropped slightly. Shortly after we left we met a herd of elephants who were crossing over. So we had to wait a while before we could continue. We were already slowly moving forward, but a male elephant had watched us and started running after us. We drove away quickly by car and luckily the elephant did not catch us. When we were completely in a dent, someone shouted that there was a giraffe. And indeed there was a giraffe very close to our car. I found that very impressive to see. Then we made an attempt to spot a hyena, cheetah or a leopard, but unfortunately that did not work out. Around half past eight we drove out of the park towards our sleeping place. We had rice and cabbage for dinner and then went to bed quickly, because tomorrow we have to get up early. Tomorrow we will take a walk to a village.
12 february
This morning we got up at a quarter past five so that we could leave at about six o'clock to the mountain where we went for a walk. In the area where we went there are about fifty villages where people live. We visited one of those villages. It was a three-hour drive to the foot of the mountain. We had a guide with us and at the mountain we were accompanied by two soldiers who went for our safety. We were only a few miles from South Sudan where it can be restless. So the soldiers went with us so that they could protect us if something happened. Together we went out. The road to the village was very steep and at the same time it was also very warm. I did not like the way there, because it was pretty spicy. Once we arrived at the village we were warmly welcomed by all the people who live there. At first I thought it was a bit uncomfortable. But this feeling was soon over. We danced for us and we also had to dance along.
After the visit to the village we walked further up. We wanted to walk to the top, but because it was so hot and the road was so steep we stopped at a spot under a big tree to eat something. After a long and well-deserved break with chapatti and an omelette we still walked further to the top of the mountain. Eventually we arrived at the top and the view was really fantastic. On the left of us we could see Uganda, to the right of our South Sudan and behind us we could see Kenya. It was soooo beautiful !!!! After a while we started our route down. Floor, Gwen and Joline slipped more than once, but no one had hurt themselves. After another hour and a half walking down we arrived at the car. We had to drive back to our sleeping place for three hours to collect our belongings and then we had to drive back to Kitgum for another three hours. When we arrived home we quickly ate and showered, so we could go straight to bed.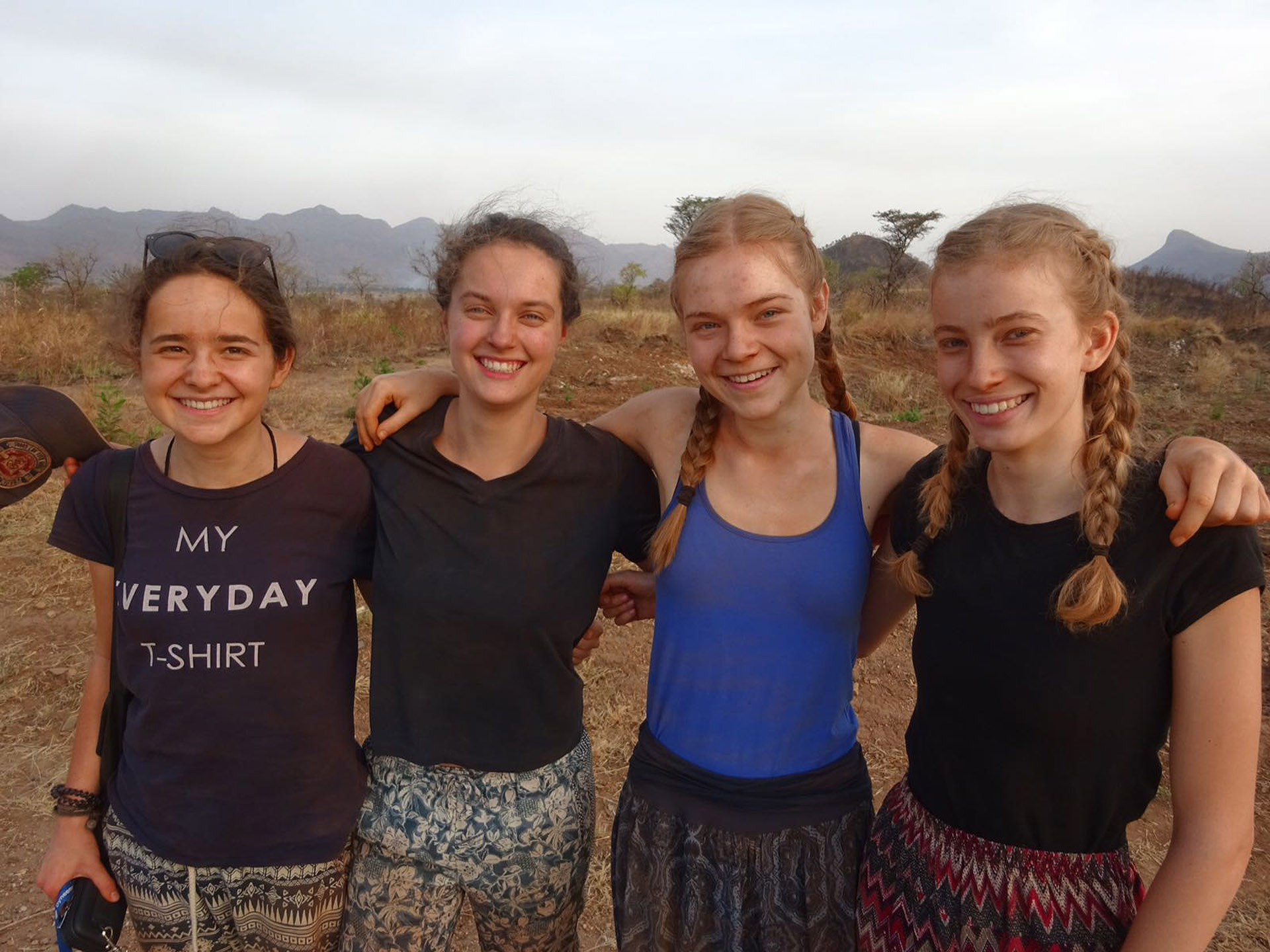 Tomorrow we are going to the school for the second to last time. I really look forward to it. After school we go to the city to buy some souvenirs. We will be tired tomorrow, because we have not had a lot of sleep last days!
13 february
This morning I got up at six, so that I was at school at seven o'clock.
The rest came to school a little later. We changed classes until the first break. In the small break, Floor and Gwen decided to go home to sleep. Everyone is very tired from the past few days. After a while they returned to school. We have followed some lessons and I jumped with the P5 class. Floor had meanwhile gone back to the house, because she did not feel so good. Gwen, Joline and I have eaten well during the big break and have already come up with a closure for the children tomorrow. We plan to do three games where the classes can earn points. The class with the most points wins then of course. That is our plan for tomorrow. Around half past four we went to town together.
We wanted to do some shopping before we leave for Kampala. Floor and Gwen bought a reed mat and a nice fabric. Joline also bought a piece of fabric and I also bought two. When we were shopping it started to rain. I have never been so happy that it rained for a while. Today it was 38 degrees, so the rain served as a nice cool. Around half past seven we were back home and around half past nine we had dinner. Then we went straight to bed, because everyone was exhausted. Tomorrow there are tests for the classes p3, p4 and p5 all day long. After school we go with all teachers and cooks to a restaurant where we will close this adventure. I'm really looking forward to tomorrow, but I think it's a great pity that tomorrow is our last day at school.
14 february
This morning I got up early again and at seven o'clock I was already at school. Today there were exams for classes P3, P4 and P5. I am at the
P5 class sit down. They started with a two and a half hour math test. I had also received a test to make. I also had to keep control over the whole class, because the teacher had to leave. After the test, Floor, Gwen, Joline and I prepared three games for the three classes that had exams. But before we could start with the games, we were first called to a local where all the children of the whole school were sitting. The assistant headteacher began by explaining that today is our last day here at the school. Then Vera was allowed to open all bags with gifts for the school. We had included pens, markers and highlighters. After this we all went outside to start with the games. All children had so much fun while playing. Even some teachers participated. For one game we had filled one hundred balloons with water. When we finished the games, we held a water fight between all teachers and the mozungus (white people). We were all ready with a balloon in our hands, while the teachers had nothing to hold. Later we were told that the teachers thought we were going to throw over. But when we started throwing those balloons hard they were totally shocked and they loved it !!! It was really nice! When everything was cleaned up again, we went to lunch together.
Then Floor, Gwen, Joline and Vera went home to pack their suitcases. I stayed and was allowed to take the next exam at the P5 class. This was Intergated Science and lasted two hours and a quarter of an hour. After the test I talked to the class a bit, because it was the last time I would see them. When all the children were gone, I drank a soda with all the teachers and then we all went to a restaurant where we would close this adventure. In the restaurant, several people spoke about our stay. Everyone spoke with so much respect and love, it was very beautiful. We had written a short speech on the card with the four of us and read it aloud. After this we all received a gift; honey and a kind of peanut butter. This was really sweet of everyone. After all speeches and gifts, we had a delicious dinner and a chat with each other. After that, all tables and chairs were pushed aside and the music turned on. We danced with all teachers until almost twelve o'clock and it was so nice !!! Saying goodbye was very difficult, because I just did not want to go. After everyone had received a big hug, we left home, because I had to pack my suitcase. Eventually we were in bed very late, but we had a great evening !!
15 february
This morning I got up early again, because I wanted to go to school soon with Vera. Vera wanted to give her guitar to school so that the teachers can practice. I wanted to join everyone to see again. When we arrived at school, there were already a number of teachers we talked to. I have given everyone in the P5 class a big hug and then we have made a final photo for the gate of the school. This was really the last time I would see them for a long time. Hereafter Vera and I quickly walked home, because we were picked up by a car and taken to the bus. We arrived at the house on time and we were on time for the bus. After eight hours of driving we finally arrived in Kampala. Here the bus stopped on a square where we had to wait for the car. We drove two and a half hours to Christine. The next two nights we will stay with Christine again in her gigantic house. After we had eaten delicious, we had a nice shower and then we went to sleep quickly.
Tomorrow we go shopping in Kampala and clean up the bags!
Last day
This morning we could sleep in again for the first time in a long time. The bed at Christine is really delicious. After we slept well, we had breakfast. The breakfast was more extensive than last time. There was bacon, egg, cassava, bread, potato and much more. After the delicious breakfast we have some rest and a few things done for ourselves. Around half past ten we were picked up by the Christine driver. He took us to a memorial site / museum where 25 'Martyers' were killed in the past. In the museum were all kinds of images that depict this terrible event. After listening to these violent stories, Vera, Lennie and Rachael picked us up and drove us to the center. Here we have shopped all afternoon. Everyone has bought very nice things. After the intensive shopping afternoon we went for dinner at a restaurant called Brood. Then we did some shopping and then we drove to a place where that night was a show. Vera, Rachael and I went to the show where traditional dances from all over Uganda were performed. The rest did not go along. The show was really fantastic. There was so beautiful dancing and the music was great. After this incredible beautiful evening I was brought back home where I went to sleep quickly.
Tomorrow we are going to pack all the suitcases and then we fly back home in the evening.
Anne, Floor, Gwen and Joline